MBS Bonsai Classes
Bonsai refers to a potted plant but it is not just cultivating plants and trees in a pot. Bonsai is a highly refined form of art and represents the dynamic contemplation of nature. The artistic principles of design refer to the organization of a work of art or bonsai. Each principle interprets how an artist uses the visual elements, composition and design to express their feelings and ideas.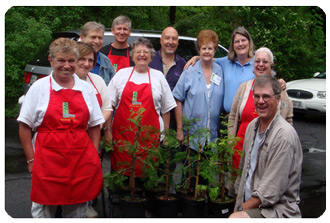 Bonsai requires scrupulous and constant care, and involves a careful consideration of the environment, soil, fertilization, appropriate trimming, the use of wires to control the shapes of the branches and trunks, Unlike static paintings or sculptures, bonsai is a living work of art, whose beauty derives from its representations constantly changing as do the seasons.
By studying these design principles and bonsai techniques, your own work will become more sophisticated as you will begin to apply this new knowledge to your own bonsai. MBS has classes at all level are available for MBS members.
Consider joining your best choice for bonsai fun, education, and community service, Join MBS , and let the fun begin.
For beginners we offer Novice classes in the Spring of the year. This class consists of a lecture demonstration that lays an essential foundation for this exciting hobby.
Discussion topics include specific care of tropical and cold hardy trees, an introduction to soil and how to select good material for bonsai training. You will also have hands on experience with styling and proper technique of wiring your tree. You gain confidence in care of bonsai. Using Tom Zane's "Introduction to Bonsai" The text includes the history of bonsai, design styles, tools, pruning techniques, wiring procedures, styling considerations, pot selection, potting technique, after care of the newly created bonsai and much more.
For the schedule see What's New