MBS Bonsai Workshops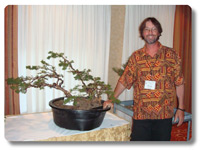 Workshops give bonsai enthusiast the opportunity to participate, learn and refine their bonsai skills. The educational workshops and demonstrations at MBS are substantive and interesting.

The programs are varied in location, content and skill level. You can participate in one or more workshops geared for beginner, intermediate, or advanced ability. Some workshops include bonsai material. Workshop participants are a group of people who have a passion for bonsai, learning and a sense of adventure.  Programs and participants promote a friendly and social atmosphere, you'll be surprised how quickly you make new friends..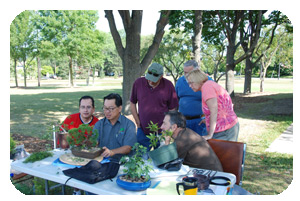 Workshops are usually held on weekends and consist of a small groups usually around 8 and the instructor. The workshop fee is determined by the cost of the room, material if provided and the visiting instructor. Workshop enrollment is limited and is filled on a first come first served basis. Each student provides his/her own tools, wire, potting materials and, unless it is a material-provided workshop, which includes a plant or tree to work on.
The picture right above is Suthin Sokolvisit working on a member's juniper outdoors as others look on. The picture on the top is of one of our members working with Guy Guidry and just below is a recent literati workshop with Jim Doyle. Click on the images to see larger images.

Consider joining your best choice for bonsai fun, education, and community service, Join MBS, and let the fun begin.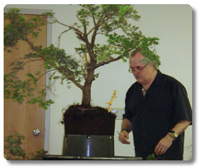 Tom got his start in bonsai studying with Ivan Watters at Yasakunai Bonsai Nursery. He eventually became an instructor and started teaching at the nursery. Tom is a member of Sosunu Nakumura's Chicago-based study group and has studied with Walter Pall. He continues to work with Ivan Watters at the Chicago Botanic Garden when his schedule permits.
Peter Tea will be our special guest at this year's annual exhibit in September. Peter is an outstanding young bonsai artist, a graduate Boon's Bonsai Intensive program, winner of the Joshua Roth New Talent Bonsai Competition in 2009, and is starting his 2nd year of his 5-year apprenticeship with Bonsai Master Junichiro Tanaka in Nogoya, Japan.
Peter introduces himself: "I am very open in my teaching and have never liked keeping Bonsai a secret. I will do my best in answering any questions members and guest may have. I like to create a fun open environment and work with people from all skill levels. All that I ask is that the membership is open as well and ready to learn new things in Bonsai."
Jack has been a bonsai enthusiast for over thirty years.

The former president of Bonsai Clubs International, he has served as a judge at bonsai exhibits and exhibited his own award winning bonsai at various shows. Jack's bonsai appear in both the National Arboretum Collection of American Bonsai in Washington D.C. and the Weyerhaeuser Pacific Rim Bonsai Collection in Tacoma, Washington. In 1987, he was named "One of America's Outstanding Bonsai Artists" by the National Bonsai Foundation. His book, Bonsai: The Art of Living Sculpture approaches bonsai as art, exploring how the traditional fine arts apply to bonsai. He focuses on the specific design elements of the bonsai - the roots, trunk, branches, foliage, and container - and discusses how bonsai artists manipulate elements for a specific effect. Unlike traditional arts, bonsai requires working with material that is alive and ever changing, presenting unique challenges and rewards.
For the schedule see What's New