The 47th Annual Bonsai Exhibit
Presented by members of the Milwaukee Bonsai Society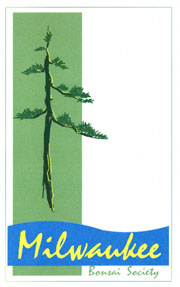 October 13-15, 2017
An exhibit of the best trees of our members... along with trees in training
With Special Guest
Matt Reel
Matt Reel recently finished a staggering 8-year apprenticeship in Japan with master Shinji Suzuki. Matt returned to the US in 2014 and is known for his broad expertise in a wide range of conifers and deciduous trees, as well as his knowledge of bonsai pots and bonsai display aesthetics. Matt is increasingly in demand as a presenter, due to his highly-refined styling of trees, combined with his appealing manner. Matt's work on a large juniper was featured in the January 2015 issue of the Japanese bonsai magazine, Kinbon. He was also featured in the November issue. In 2016 he was the featured artist at Generation Bonsai with Walter Pall in Germany. And in 2017 he will be our featured guest for the 47th Annual Bonsai Exhibit.
Admission to exhibit, vendor area and demonstration is free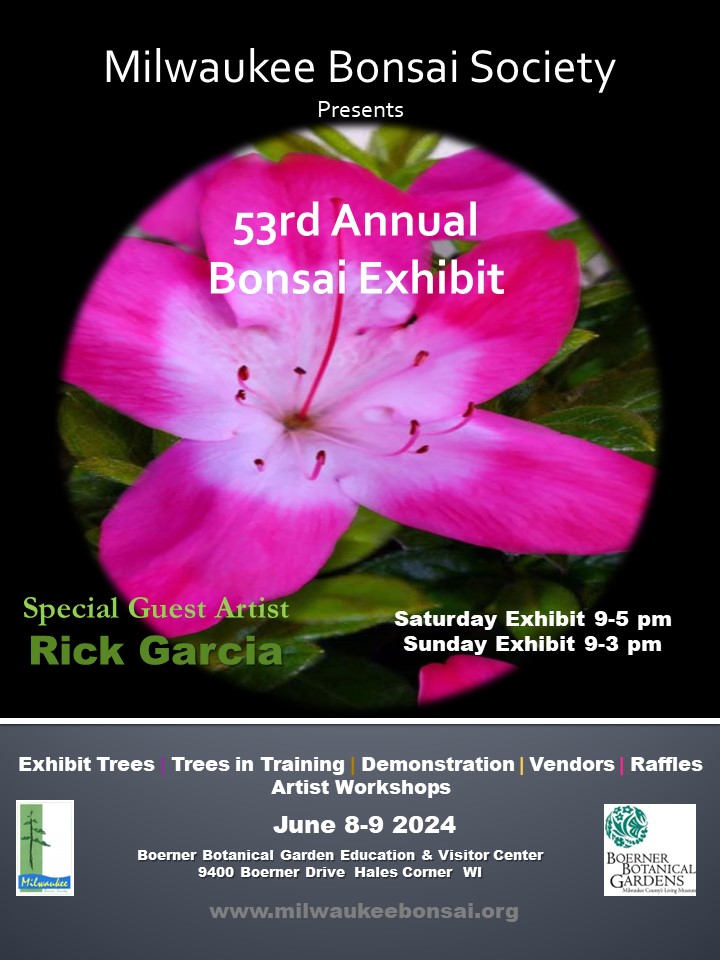 Show Hours
Friday, October 13, 6 pm -9 pm
Saturday, October 14, 10 am - 5 pm
Saturday Demonstration, 1 pm - 5 pm
Sunday, October 15, 10 am - 3 pm
Check out MBS Annual Exhibit in Previous Years
Boerner Botanical Gardens in Whitnall Park
9400 Boerner Drive, Hales Corners, WI 53130
(414) 525-5600
Multi-Media Room on the Lower Level
Register for Banquet and/or Workshops
Register your Tree for the Exhibit
Drop off is Thursday October 12 5:00 PM to 7:30 PM Download, print the form found in the newsletter
Remember to pre-register your tree by October 9 for judging.
Help publicize the Annual Exhibit
Bring addresses to the next meeting so we can mail a postcard invitation.
Pick up a poster at the next meeting and put it up somewhere
Or Download, and print the Poster
Volunteer Opportunities
Annual Exhibit October 13th-15th Volunteers needed during the Annual Exhibit Available opportunities for: Greeters at entry tables, Security in display area, and Workshop/Demo attendant. See the sign-up sheet for dates, times, and duty descriptions. Look at your calendar and email Wally V.
Annual Exhibit Volunteer Sign-Up .
Sign-up sheet will also be available at the September meeting.
Consider joining your best choice for bonsai fun, education, and community service, Join MBS, and let the fun begin.
Ancient Arts Bonsai carries pre bonsai, pots, and supplies.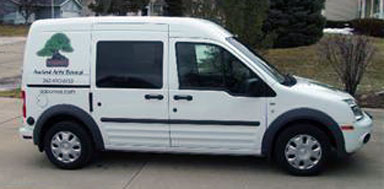 Ron can be found during several club meetings with trees and supplies. (262) 490-8733 aabonsai@charter.net
BC Bonsai is the largest dealer of bonsai and supplies in the Chicago area. BC Bonsai has thousands of bonsai and pre bonsai trees, hundreds of bonsai pots, a large inventory of bonsai tools and wire (copper and Aluminum). (630)690-0404
Nino's Landscape Company a long time supporter of the club offers bonsai tools, pots, fertilizers and nursery supplies during several of the club meetings. (414) 761-9298
Wisco Bonsai carries soil substrate, muck, cutty putty, pots from John Menzel and apparel.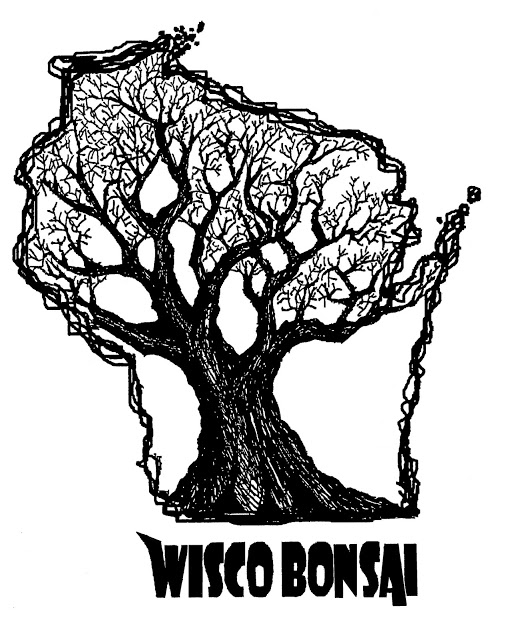 Kevin has a large social media presence and is launching in October.
Milwaukee Bonsai Society understands that a lasting relationship grows success in an organization. Because of this philosophy, MBS wishes to acknowledge our supporting vendors
Please visit our supporting vendors
Available Workshops
Bring Your Own Material
Limit 6 participants
Bring your own material and initiate a new bonsai project or refine an existing bonsai. This is a great opportunity to take a look at one of your own trees with the artist of transformation and come up with a new unique style, or advance the tree along its current path with Matt Reel's guidance.
Workshops at all levels are available for MBS members. We will have 2 days of workshops.
Exhibit Critique and Reception
Friday 6- 9 pm Free
Everyone is welcome
My name is Matt Reel,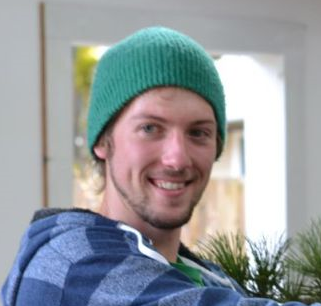 "Bonsai found me when I was walking around the mall in my Portland neighborhood on a typical afternoon, nothing out of the ordinary, until my eyes were drawn to a peculiar looking kiosk. I was 13 and didn't really know what to think about the little tree's in pots, except that I was fascinated by them and had to know more. I have always felt at home being outdoors in the great NW, so I knew at least that this was the glue that would bond me indefinitely to Bonsai."
Demonstration
Saturday 1- 5 pm Free
Matt will be demonstrating on spectacular material. Do not miss.
Everyone is welcome