The 46th Annual Bonsai Exhibit
Presented by members of the Milwaukee Bonsai Society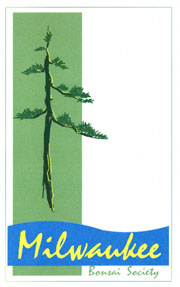 September 16-18, 2016
An exhibit of the best trees of our members... along with trees in training
With Special Guest and advance class instructor
Peter Tea
Peter Tea is an outstanding young bonsai artist, a graduate Boon's Bonsai Intensive program, winner of the Joshua Roth New Talent Bonsai Competition in 2009, and is starting his 2nd year of his 5-year apprenticeship with Bonsai Master Junichiro Tanaka in Nogoya, Japan. Peter introduces himself: "I am very open in my teaching and have never liked keeping Bonsai a secret. I will do my best in answering any questions members and guest may have. I like to create a fun open environment and work with people from all skill levels. All that I ask is that the membership is open as well and ready to learn new things in Bonsai." Peter is currently our advance class instructor and often visits our society to present new ideas and current thinking.
Admission to exhibit, vendor area and demonstration is free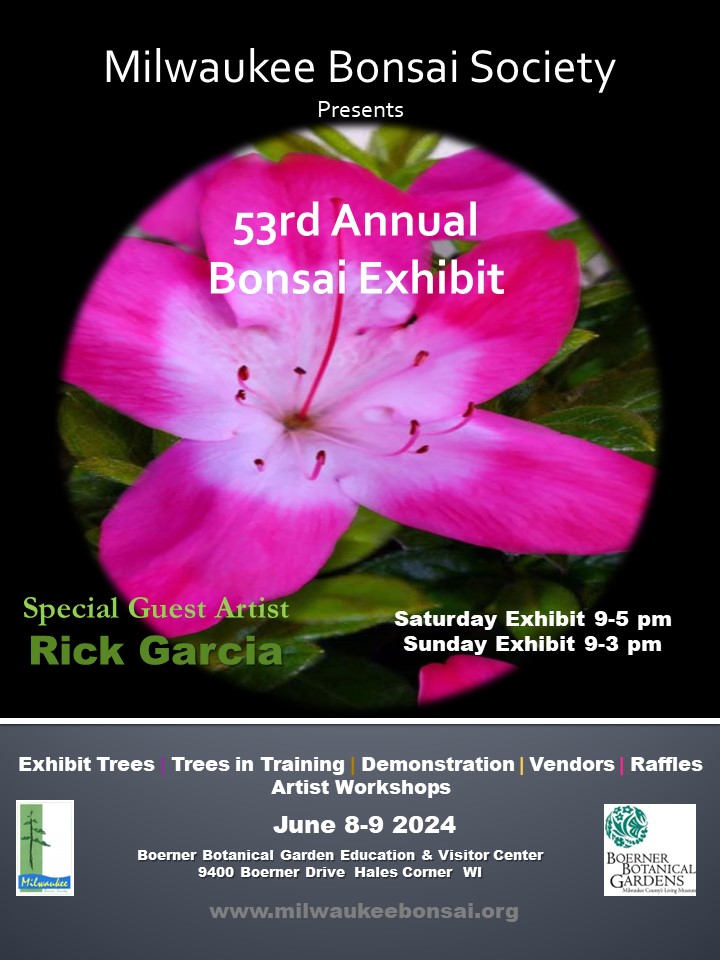 Show Hours
Friday, September 16, 6 pm -9 pm
Saturday, September 17, 10 am - 5 pm
Saturday Demonstration, 1 pm - 5 pm
Sunday, September 18, 10 am - 3 pm
Check out MBS Annual Exhibit in Previous Years
Boerner Botanical Gardens in Whitnall Park
9400 Boerner Drive, Hales Corners, WI 53130
(414) 525-5600
Multi-Media Room on the Lower Level
Register for Banquet and/or Workshops
Big News – Registration will open for workshops with Peter Tea at the August Meeting Download, print and complete the Workshop/Banquet Registration Form.
Registrations are being accepted at the August meeting
Register your Tree for the Exhibit
Drop off is Thursday Sept 17 5:00 PM to 7:30 PM Download, print and complete the Tree Registration Form.
Remember to pre-register your tree by September 16 for judging.
Help publicize the Annual Exhibit
Bring addresses to the next meeting so we can mail a postcard invitation.
Pick up a poster at the next meeting and put it up somewhere
Or Download, and print the Poster
Volunteer Opportunities
Annual Exhibit September 16th-18th Volunteers needed during the Annual Exhibit Available opportunities for: Greeters at entry tables, Security in display area, and Workshop/Demo attendant. See the sign-up sheet for dates, times, and duty descriptions. Look at your calendar and email Wally V.
Annual Exhibit Volunteer Sign-Up .
Sign-up sheet will also be available at the September meeting.
Consider joining your best choice for bonsai fun, education, and community service, Join MBS, and let the fun begin.
Ancient Arts Bonsai carries pre bonsai, pots, and supplies.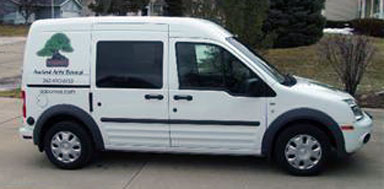 Ron can be found during several club meetings with trees and supplies. (262) 490-8733 aabonsai@charter.net
BC Bonsai is the largest dealer of bonsai and supplies in the Chicago area. BC Bonsai has thousands of bonsai and pre bonsai trees, hundreds of bonsai pots, a large inventory of bonsai tools and wire (copper and Aluminum). (630)690-0404
Nino's Landscape Company a long time supporter of the club offers bonsai tools, pots, fertilizers and nursery supplies during several of the club meetings. (414) 761-9298
Milwaukee Bonsai Society understands that a lasting relationship grows success in an organization. Because of this philosophy, MBS wishes to acknowledge our supporting vendors
Please visit our supporting vendors
Available Workshops
Bring Your Own Material
Limit 6 participants
Bring your own material and initiate a new bonsai project or refine an existing bonsai. This is a great opportunity to take a look at one of your own trees with the artist of transformation and come up with a new unique style, or advance the tree along its current path with Peter Tea's guidance.
Workshops at all levels are available for MBS members. We will have 2 days of workshops.
Exhibit Critique and Reception
Friday 6- 9 pm Free
Everyone is welcome
My name is Peter Tea,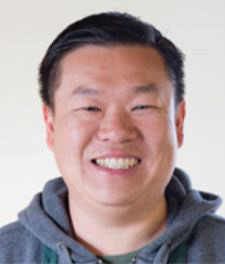 I will be sharing my experiences as a Bonsai Artist and Instructor. I am located in San Jose, California and have been working and traveling all over the United States. I started learning about Bonsai in 2001. I was an Automotive Technician at a Ford dealership for almost 10 years and Bonsai was my hobby on the side. As I got more interested and deeper into the world of Bonsai, I found myself thinking about it all the time. I joined the Midori Bonsai Club in 2002 and become the president in 2007 and 2008. Most of my Bonsai training came in 2003 when I met Boon Manakitivitpart of BonsaiBoon.com. I signed up for his Bonsai Intensive program after seeing him do a demonstration at the Sei Boku Kai Bonsai club meeting in San Mateo, California. Once I visited his garden, I knew he was the person to study with in the United States. After finishing his three year intensive program, I graduated and decided joined the Bay Island Bonsai in 2007. In 2008 I started my own Bonsai business called Peter Tea Bonsai as a way for me to help educate the bonsai community, hone my teaching skills and make some extra money to fund my Bonsai hobby. I held workshops, study groups, demonstrations and sold bonsai related items In 2011 I decided to change career paths and traveled to Japan to study Bonsai full time under Mr. Junichiro Tanaka at Aichien Bonsai Garden. I was an apprentice for over 2 years and was released in 2013 having completed my 5 year apprenticeship early. With Mr. Tanaka's blessing, I returned to the United States in 2013 ready to continue my business and work.
Demonstration
Saturday 1- 5 pm Free
Peter will be working on two trees.
Everyone is welcome